"Every Possibility for Securing Any Remaining Piece of Slovenian Land at the Last Moment Has Been Calculated in Advance." The International Boundary Commission in Styria Between 1920-23
Filip Čuček

Inštitut za novejšo zgodovino / Institute of Contemporary History
Keywords:
Styria, Maribor, Delimitation Commission, the Treaty of Saint-Germain, post-war years, 1920–23
Abstract
In the following discussion, the author analyses the activities of the International Delimitation Commission in Styria between 1920 and 1923. Two weeks after the Treaty of Saint-Germain came into force in July 1920, a special International Delimitation Commission was appointed in Paris to determine the definitive border in the field. In accordance with the Treaty, it had to draw up a work plan, define the border, and identify and mark the disputed areas in the field. The Commission managed, organised, and coordinated the efforts at the border, visiting the disputed areas and checking the border crossing points as necessary.
References
Arhivsko gradivo
Pokrajinski arhiv Maribor (PAM):
SI_PAM/0645/003/00791 Kazenski spis Okrožnega sodišča Maribor XI 488/22 (Turner, Josef – protidržavna agitacija za Nemško Avstrijo), 1922 (Združeni dokumenti).
Steiermärkischer Landesarchiv (StLA):
Stenographisches Protokoll über die 28. Sitzung der steiermärkischen provisorischen Landesversammlung am 7. Mai 1920, 545–48.
Časopisje
Arbeiterwille, 1920.
Grazer Tagblatt, 1919, 1920, 1921.
Jugoslavija, 1920.
Jutro, 1920, 1921, 1923.
Marburger Zeitung, 1920, 1923.
Mariborski delavec, 1920.
Murska straža, 1920.
Nova Doba, 1920.
Slovenec, 1920, 1921.
Slovenski narod, 1920.
Straža, 1920, 1921.
Tabor, 1920, 1921, 1922.
Literatura
Čuček, Filip. »'Volkovi in hijene'. Primeri 'obračuna' s spodnještajerskim nemštvom (in vsenemške 'obrambe domovine') v prevratni dobi.« Prispevki za novejšo zgodovino 61, št. 2 (2021): 67–102.
Dolenc, Ervin. »Deavstrizacija v politiki, upravi in kulturi v Sloveniji,« v: Slovensko–avstrijski odnosi v 20. stoletju. Uredil Dušan Nećak et al. 81–94. Ljubljana: Oddelek za zgodovino Filozofske fakultete Univerze v Ljubljani, 2004.
Ferlež, Jerneja (ur.). Nemci in Maribor. Maribor: Umetniški kabinet Primož Premzl, 2012.
Jenuš, Gregor. Ko je Maribor postal slovenski. Maribor: ZRI dr. Franca Kovačiča, 2011.
Hartman, Bruno. »Prevrat v Mariboru.« Studia Historica Slovenica, št. 1 (2002): 192–201.
Klemenčič, Matjaž. »Germanizacija slovenske Štajerske, ki jo je preprečil poseg generala Rudolfa Maistra.« Časopis za zgodovino in narodopisje 82, št. 2–3 (2001): 49–66.
König, Heinz. »Die Festlegung von Staatsgrenzen. Der maßgebliche Beitrag der Geodäten zur Realisierung von Grenzen,« Beiträge zur Rechtsgeschichte Österreichs 9, št. 2 (2019): 471–97. 10.1553/BRGOE2019–2s471.
König, Heinz. »Die Grenze mit dem Serbisch–Kroatisch–Slowenischen Staat.« V: Der Vertrag von St. Germain, Kommentar. Herausgegeben von DDr. Herbert Kalb, Dr. Thomas Olechowski, Dr. Anita Ziegerhofer unter Mitwirkung von Laura Rathmanner und Stefan Wedrac. 132–40. Wien: MANZ'sche Verlags– und Universitätsbuchhandlung, 2021.
König, Heinz. »Die Staatsgrenzen Österreich.« Österreichische Zeitschrift für Vermessung und Geoinformation 85, št. 2 (1997), 142–49.
Morawetz, Sieghard. »Die steirisch–südslawische Grenze zwischen Hühnerkogel und Kutschenitza.« Zeitschrift des Historischen Vereins für Steiermark 16 (1968): 19–31.
Penič, Lojze. Boj za slovensko severno mejo 1918–1920. Maribor: Muzej narodne osvoboditve, 1988.
Perovšek, Jurij. Slovenska osamosvojitev v letu 1918. Ljubljana: Modrijan, 1998.
Perovšek, Jurij. Slovenski prevrat 1918. Ljubljana: INZ, 2018.
Rahten, Andrej. Po razpadu skupne države. Celje: Celjska Mohorjeva družba; Celovec: Mohorjeva družba; Gorica: Goriška Mohorjeva družba, 2020.
Rathmanner, Laura R. »Kommissionen, Ausschüsse, Tribunale: Internationale Einrichtungen im Staatsvertrag von St. Germain.« Beiträge zur Rechtsgeschichte Österreichs 10, št. 1 (2020): 87–123. 10.1553/BRGOE2020–1s87.
Ščap, Dušan »Vprašanje (Apaškega polja) Apaške kotline 1919–1921 iz zornega kota poročanja avstrijskih časopisov.« V: Zbornik soboškega muzeja 25. 313–24. Uredil Branko Kerman. Murska Sobota: Pomurski muzej, 2019.
Zajšek, Boštjan. »'Raje pa hočemo nemško umreti, kakor laško ali slovansko trohneti' – mariborski Nemci v letu 1918.« Studia Historica Slovenica 19, št. 2 (2019): 419–466.
Zajšek, Boštjan. Jugoslavija prihaja. Maribor: Pokrajinski arhiv, 2018.
Zorn, Tone. »'Deutsche Grenzwacht' in razmejitev na Štajerskem v letih 1919–1922.« Časopis za zgodovino in narodopisje 51, št. 1 (1980): 165–81.
Zorn, Tone »'Murska straža' o slovenski severni meji in o Prekmurju v letih 1919/1922.« Zgodovinski časopis 34, št. 4 (1980): 413–30.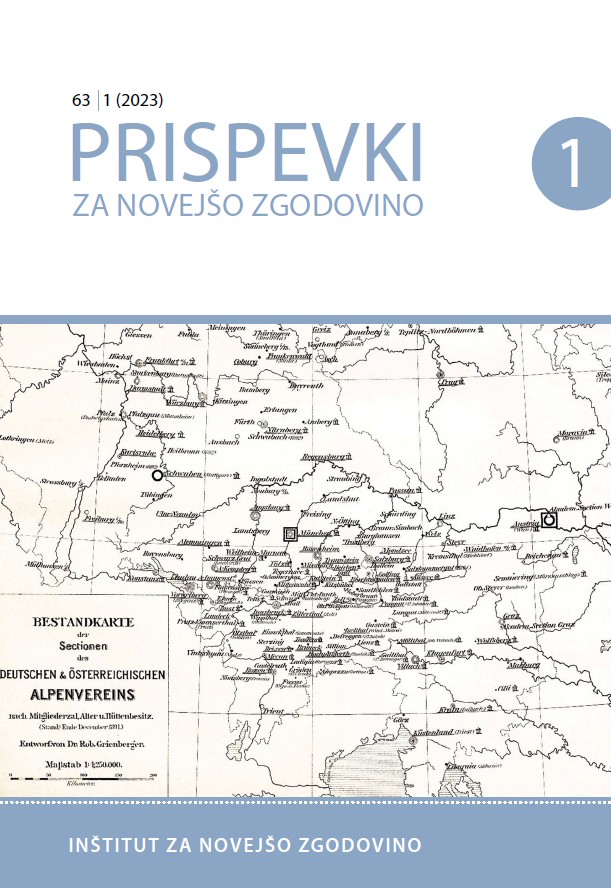 Copyright (c) 2023 Filip Čuček
This work is licensed under a Creative Commons Attribution 4.0 International License.
Authors who publish with this journal agree to the following terms:
Authors retain copyright and grant the journal right of first publication with the work simultaneously licensed under a Creative Commons Attribution License that allows others to share the work with an acknowledgement of the work's authorship and initial publication in this journal.
Authors are able to enter into separate, additional contractual arrangements for the non-exclusive distribution of the journal's published version of the work (e.g., post it to an institutional repository or publish it in a book), with an acknowledgement of its initial publication in this journal.
Authors are permitted and encouraged to post their work online (e.g., in institutional repositories or on their website) prior to and during the submission process, as it can lead to productive exchanges, as well as earlier and greater citation of published work (See The Effect of Open Access).